Meet Our Team
At Our Family Pet Sitting Resort & Spa, our mission is to provide genuine family-oriented love, care, and compassion for every fur friend, every parent, and every co-worker every day. To be kind, honest, reliable, and treat others as we would like to be treated. Get to know some of the key players at Our Family who are dedicated to the exceptional care of your pet.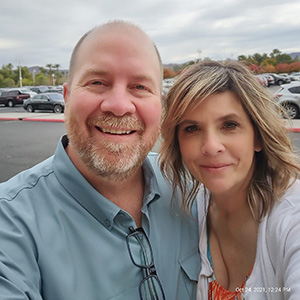 Joe & Kelly
Owners
Highschool sweethearts Joe & Kelly own and operate Our Family Pet Sitting Resort & Spa. Retired from corporate life, they are now full-time (and then some) committed to the success and growth of the business. Joe & Kelly invest in their staff to ensure the safety and exceptional handling of your beloved pets. They also live on-site in the farmhouse on the property. Read more about their story.
---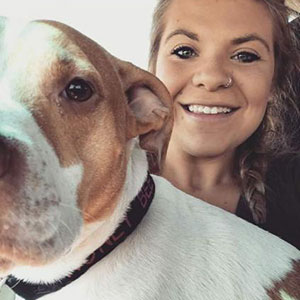 Ashley
Director of Operations
Ashley has always loved caring for animals. For as long as she can remember, she was dog sitting for friends, family, and neighbors. In 2013 after graduating from high school, Ashley started working full-time at a grooming salon. It was then that she realized her passion was for grooming dogs. She attended a private academy in 2015, learned how to cut hair, and has been professionally grooming full-time since. Ashley feels blessed to run her own salon. With the help of her family and staff at OFPS, she is living her dream every single day! Honey Bee (pictured) was adopted by Ashley from WISH.
---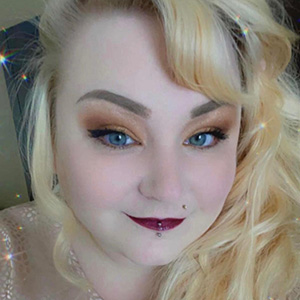 Megan
Director of Operations
I am Megan the director of operations at Our Family Pet Sitting. Dog enthusiast by day, cat mom by night to my 3 felines. Full-time animal lover for as long as I can remember. When I am not working I am refurbishing my incredible 70's shag palace I purchased 2 years ago. I love remodeling and interior design. I have spent the last 20 years inretail management and customer service, managing 12 locations for a junior fashion retail company in the Chicagoland area. I recently found out I am expecting my first child and chose to make a change from the high-stress and fast-paced corporate world. I am known in the retail world for being people-centric and highly adaptable to change. I felt joining Our Family Pet Sitting at a higher management level would fall into my forte and I could be a real asset to the company. I couldn't be happier with my choice to work with you and all of your most precious loved ones.
---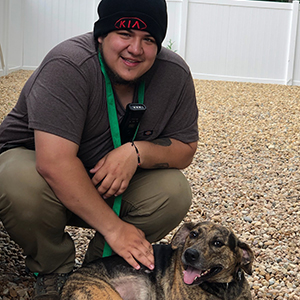 Alfredo
Resort Manager
Alfredo is our resort manager. He grew up in Overland Park, Kansas and moved out to West Chicago when he was 10 years old. His love for dogs started when he got his first pet Fox, a shih tzu. Alfredo began working for Our Family in September of 2019. His passion for dog care has continued to blossom. Alfredo prides himself on working with anxious, and challenging dogs. He enjoys helping them adjust and get comfortable at our resort. He excels at getting to know each and every dog's individual personalities and working with them accordingly. If he had to choose a favorite dog breed it would be bulldogs. We are very lucky to have such a calm, and patient manager on the leadership team. If you ever have any questions about transitioning anxious dogs to happy, playful and easy going playmates he is your guy!